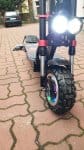 Yume Y11 Plus 30Ah 5600W My Best looking Scoot yet !
Yume Y11 Plus s.click.aliexpress.com/e/_AOuX8I is one the most Blink Blink Escoots from china, my 1st impression was " Shinyyyy ?? ", just check led system on the motors it's Amazing ! . So this scoot doesn't only looks good but also quality is better then I expected ( so far better than on other scoot which I tested )
Lets start with Package , scoot was very well secured . Of course in the box we will find Scoot / 2x charger 2A / Seat / Tool Box (
Overall Quality of the Yume Y11 Plus is more than I expected (actually this scoot is not cheap so no surprise )
Lights in 11″ RIMS are like GOD mode ! First time I see something like this ( LEDs are powered by wireless " Charging " system know from smartphones, " Tesla coil system " )
Frame is really long so should be comfier than in other Escoots from china like Laoties ES18 or Boyueda . Steering column & steering bar feels quite solid ?
Under the deck we got also plenty of leds ???
Inside the deck we Can see 45A controller ,60V 30AH Battery , converters for LEDs and other stuff
Laotie ES18 vs Yume Y11 Plus 😉
Kick stand looks… OMG ?!
You can buy it on Yumeway yumeway.com/products/y11-plus-electric-scooter-50mph-5600w or on Ali s.click.aliexpress.com/e/_AOuX8I