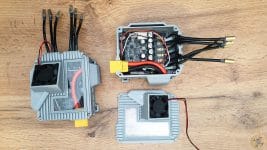 Case for Vesc Flipsky 6.6 Dual Mini with active cooling & window Designed by Pirate ? Files Included ?
Vesc 6.6 Dual Mini is one of the cheapest and most powerful controllers for the price, I been using it for quite long time without issues so I decided to make case special for it.
What do you need to make SYL-08 4WD:
We need to seal space between Vesc and case, add a little bit of kaufer
Now us 4x M3 17mm and secure the VESC to the case as you can see on pics
Use 6x M4 12mm countersunk , bottom part & gasket
If 40mm fan will not fit easily, grind walls of the fan a little bit.
To make window I used some transparent plexi from old box, but I do recommend to use some HQ 1mm thick plexi glass. I also used super glue which is bad idea cause it can damage easily thin pelxi, go with sticky silicone kaufer or something.
And there we got a window, on vesc are 4 leds so inside cause will be quite bright 😉
When you finish wiring, connect 5V fan to one of the UARTs on Vesc ( add some capacitor between 5v + & – as a low pass filter )
You have to admit it Looks GOOD 🙂 , my Patrons www.patreon.com/pirateonpatreon will have couple versions of top lid and newest versions 😉
you can Tip me : paypal.me/PirateAC
FREE Download www.thingiverse.com/piratein3d/designs & www.myminifactory.com/users/PirateIn3D