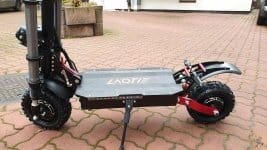 LAOTIE Ti30 Landbreaker 60V 38.4Ah First impression
Just received newest Laotie Ti30 Landbreaker with HUGE battery 60V 38.4Ah , this capacity is even bigger than in Laotie ES18 31.2AH . New Landbreaker looks like Multipurpose scoot, great for City long range ride/ OFFroad or even thanks to big battery you can use it as Delivery scoot.
?? Laotie Ti30 on BG  Price 1299$ with Pirate's coupon PirateTi30 ??
Ofcourse scoot is secured NOT bad , big haevy box if sponge BUT when I opened package I noticed that left blinker was turned one whole time from china and battery was 45V so Ultra low… .
Yeah it's very well secured.
In the box we will find also 2x 67.2v 2A chargers, key set , manuals
How do not Love these Derp eyes ??
Scoot looks the same like BOYEDA 😉 , frame is Massive and I never had any problems with it, there is even old Good Crappy folding mechanism ?
Suspension is almost the same like in Boyeda , almost because Front Fork is upgraded one , it has slower rebound ( no more cracking noise ) and extra rubber covers . On the back w have spring system which is working very well .
Worth to mention is that front fork seems to have a little bit better reinforced motor mount, old version could break at that spot , couple pics can be found about it but I never had any problems with it and I hope that new version is really better.
Motors are 2800W ( the same like in Boyueda ), aaaaand it has my Fav ZOOM hydraulic brakes ??
Controllers 45A , I am sure we will have some GOOD Power ?
Battery ! This is pretty crazy or fishy ( I need more time to check it ) because battery in Ti30 is a little bit bigger than in Boyueda but way smaller than in ES18 and overally Ti30 feels lighter than Boyeda ( bare in mind that we got built-in BigAss battery 38AH ) ! , So far I been able to pump into battery 36AH after 10H. ** I said something is fishy because this battery is really small and light so more testing is needed BUT if this battery is really at least 36AH then I want it in ALL MY SCOOTS ???
Electric stuff, so we got 2x charging port on the side/ standard Remote alarm ( I really like this one ) / 2 Big and 2 Small front lights / 2 lights on the sides / 2 Blinkers on the back / 2 back lights and 2 Stop back lights.
How does it work ?! We will check it soon 😉
?? Laotie Ti30 on BG  Price 1299$ with Pirate's coupon PirateTi30 ??
—- This post will be constantly updated —