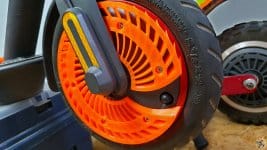 Xiaomi M365 MAX Cooler 2020 made by Pirate
Newest Cooler for Xiaomi m365 called MAX is my most efficient construction yet, 3x greater airflow compare to old version. Also it's lighter, looks Awesome , fits of M365 Classic/Pro & can be easily installed without removing motor. This cooler can decrease temperature of the motor, which is quite important if you increasing power 1000w++ ⚡? ( stock Pro got 980W ) or if you are BiG Guy ?
Brushless motor #1 killer is overheating, Temperature difference between the motor shell and inner coil can be even 1:2 so if motor shell is 50C then inside the motor could be even over 100C so as you can imagine any temperature drop counts.
You can buy it in my Eshop: