Tips & Tricks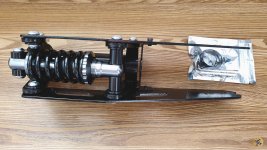 Cheap chinese Suspension for Xiaomi m365 How to mount it
This is cheap copy of Monorim suspension which i recommend , but if U need soemthing trully cheap for simple city ride then this one will do job. let meshow you how to innstall it.
It will come in box
Remove side covers from the front fork and front wheel
Now remove the fork, at first unscrew top middle screw and then 2 sides one and remove the fork.
Add on the steerer tube included parts like I did and use old bearing & don't forget to add some extra grease on moving parts.
Quite importnat thing you have to shorten this top bolt for about 3-5mm, otherwise there will be no way to tight top and bottom part of the fork
No worries if there will be 2 parts left, new fork got a little bit different mount system?.
U can also easily install front mud guard