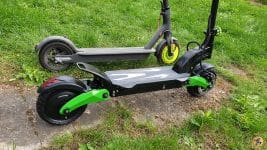 CyberBot Mini " X-Tron 08 " This is how Xiaomi M365 V2 2WD should looks like ?!
First look on CyberBot Mini ( X Tron 08 ) and you can san see motors which looks like Xiaomi ones and the best Escoot suspension so Swing Arm System . Scoot is little bit bigger than M365 but is not very heavy , even if we consider it's 2wd with big battery 48V 20AH.
🛒🛒🛒 I got my from BangGood bit.ly/Xtron08 🛒🛒🛒
I am pretty sure motors could handle even 1200W peak, looks like M365 pro ones . First punch and you can feel great power out of the box, ofcourse 2WD make it next lvl compare to stock Xiaomi. Tires are 10″, looks way better than stock Xiaomi ones 😉 . mechanical brakes are Not bad But still not the best .
Frame looks actullay awesome, seem to be quite rigid so I have no complains about it ( at least so far ). Suspension is one of the best , actually this is main reason why i decided to get this scoot. Crazy soft and comfy to use, also we got KS EXA shocks with spring 2000lbs so it's even better.
M365 Pro vs CyberBot Mini
On steering bar we can find standard stuuf, and included charger is 2A
Videos:
🍕🍕🍕🍕🍕🍕 This post will be updated after some proper test 🍻🍻🍻🍻🍻🍻
🛒🛒🛒 I got my from BangGood bit.ly/Xtron08 🛒🛒🛒
🍻🍕 Do you 💘 Pirate ⁉ and want to Support ‼ 🍕🍻 Banggood bit.ly/PirateBG ( buy what U like from link ) Ali s.click.aliexpress.com/e/_dTN231Y ( buy what U like from link ) Or just leave some positive comment and make my Day 🍕🍻