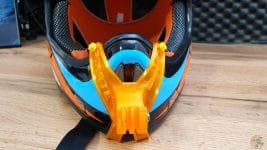 GoPro Chin mount for Full Face hemlet Designed by Pirate
To make almost all my latest videos , I used my GoPro Chin mount for Full Face hemlet. It should fits on most of full face helmts and it's super easy to install it. I used before some chinese chin mounts but they didn't survie long , even those more expensive 40$ + , so I decided to make my own which can handle A LOT ?
I used super flexible and strong filament, also I can do some special things like add on chin mount your own Name / Brand and/or symbol. Here you can see my and Pablo adapters .
It is super easy to instal it ( no worries good quality zips will not break , I am suing this set with heavy gopro max for over a year ) :
It will work with Gopro camera series like 4-8 , max and other similar cameras.
Thanks to it , you can make videos like this