Motor Cooler for Janobike T85 & Laotie ES18
16,00 $ – 19,00 $ incl. VAT
Add to wishlist
Added to wishlist
Removed from wishlist
0
If you are pushing your Scoot to the limit then you can notice that motors are pretty hot, actually rear motor can be so hot that you are even not able to touch side shell ( as you can imagine it seriously decrease life span of the motor ). Temperature inside the motor can be even 3x higher then outside shell, so if you mount cooler and temperature drops for even 10C then inside can drops for even 30C.
After 3 months of testing my Coolers I have to say that they works great, cooler never broke dent and works motor perfectly. Before I mount cooler temp. was even 81C on rear motor, after installing it temp is close to 50C which is decent score.
Please note that motor can have Air valve in different place, if you would like to buy cooler please choose correct valve position.
Version A has air valve over silver screw 

Version A has air valve over silver screw 

Version B has Air valve moved to left side above silver screw

Version B has Air valve moved to left side above silver screw

Version C has Air valve moved to right side above silver screw (opposite to B )
** you will receive 1x Regular Carbon Black Cooler , 3x long stainless steel screws ** 
**use it at your own risk**   
Specification:
Motor Cooler for Janobike T85 & Laotie ES18
| | |
| --- | --- |
| Color | |
| Type | Ultimate, Turbo |
| Valve position | A, B, C, D |
Dimensions
| | |
| --- | --- |
| Weight | 0,1 kg |
| Dimensions | 30 × 30 × 4 cm |

Motor Cooler for Janobike T85 & Laotie ES18
16,00 $ – 19,00 $ incl. VAT
Related Products

35,00

$

– 40,00

$

incl. VAT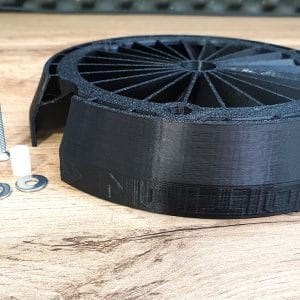 4,00

$

– 5,00

$

incl. VAT
16,00 $ – 19,00 $ incl. VAT
Add to wishlist
Added to wishlist
Removed from wishlist
0