Antispark Dual Loop key for Escoots Ebikes Like Laotie ES18 ES19 Ti30 Boyueda… Perfect Fail Safe
Add to wishlist
Added to wishlist
Removed from wishlist
1
Loop Key is perfect Power Fail Safe switch for most Evehicles like Escoots / Ebikes / Esk8 because it's mechanicall on/off switch. My version of Dual Loop key is prepeared fot Antispark Amass XT90s & XT30 connector.
Easy to use, just connect small XT30 connector with preinstalled resistor ( it will prevent from any spark ) , then connect XT90 connector and remove xt30.
Dual version will work for Very Long Time compare to single XT90 connector version where built in tiny resistor had lifespan around 50 power connections. This time Tiny Xt30 with resistor is taking first high current / high voltage shock.
When Loop key is useful:
No more battery drain, cuz  Loop Key disconnect battery. Very usefull if your vehicle got Remote alarm which drain 24h battery.
When you Mod your Evehicle , like changing Controller or battery.
Trusting built in on/off switch into controllers is bad idea, especially if controller will damaged then it will not turn of power system.
You can disconnect battery from other components anytime.
It will fit in to standard charging port hole (15mm) , like in Laotie Escoots series Es18/ES19/Ti30 , Boyueda and most of other scoots.
Types of selling set:
Just printed parts & Screws ( Top, Middle & Bottom shell part, 2x printed hollow bolt and nut, M4 drill guide , Stainless steel screws )
Printed parts with Amass XT90s & XT30 connectors ( Top, Middle & Bottom shell part , 2x printed hollow bolt and nut, drill guide , Stainless steel screws & Big Resistor 20-100Ohm )
To install this loop key you have to drill two holes in you frame by using 3.5mm drill bit and make 4mm / M4 thread , also you have to use lots of silicone as a seal. 
How to install it:
…soon…
Specification:
Antispark Dual Loop key for Escoots Ebikes Like Laotie ES18 ES19 Ti30 Boyueda… Perfect Fail Safe
| | |
| --- | --- |
| Type | Just printed parts & Screws, Printed parts & XT90s / XT30, Preassembled Dual Loop Key |

Antispark Dual Loop key for Escoots Ebikes Like Laotie ES18 ES19 Ti30 Boyueda… Perfect Fail Safe
Related Products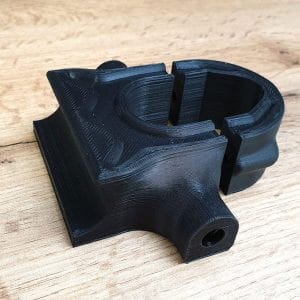 10,00

$

– 12,00

$

incl. VAT

8,00

$

– 16,00

$

incl. VAT
Out of Stock

Add to wishlist
Added to wishlist
Removed from wishlist
1